Leonard K. Bean Sensei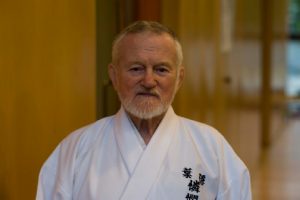 Iaido Kyoshi 7th dan, Kendo Renshi 5th dan, Jodo 5th dan
International Senior Coach (British Kendo Association)
Individual Learning Through Coaching NVQ3+ (Edexcel)
Bean Sensei has been teaching budo for over forty years, both with ILEA (Inner London Education Authority) and in the modern education system, having been a Morley College tutor for thirty years until the college closed down its Physical Education department in 2011.
He was a member of the first British national kendo squad and competed at both the first World and first European kendo championships, the latter of which earned him a gold medal.
Bean Sensei is a monjin of Ishido Shizufumi Sensei, Hanshi 8th dan, under whom he has studied for 25 years.
Dragomir Lubomirov Sensei
Iaido 5th dan; Jodo 5th dan
Iaido and Jodo level 1 Coach (BKA)
Dave Fanning Sensei
Iaido 5th dan; Jodo 5th dan
Iaido level 1 Regional Coach; Jodo & Kendo level 1 Coach (BKA)
Dave Fanning Sensei has been studying under Bean Sensei since 1997, after attending one of his Morley College iaido classes. Since the beginning of 2010 he has also been teaching children iaido at his own dojo, Hagakure Shonen, with his partner, Gill Wacey. Over the years they have both represented Great Britain at the European Iaido and Jodo championships on several occasions.
Dave has acted alternately as both the iaido- and jodo-bu (departments') Grading Officer for the British Kendo Association for six years.